A US-wide baby formula shortage has forced frantic parents to band together in online groups to trade and sell to feed their babies.
Key points:
The issue is the result of supply chain disruptions and a safety recall
The recall wiped out many brands covered by a federal program like food stamps that serve women, infants and children
Parents looking for online retailers received products aimed at toddlers
President Joe Biden has stepped up his administration's response, meeting with executives from Gerber and Reckitt to discuss how they could increase production and how his administration could help, and speaking with executives from Walmart and Target about how to restock shelves and address regional disparities in access. to the formula, the White House said.
The US government plans to monitor possible price increases and work with trading partners in Mexico, Chile, Ireland and the Netherlands on imports, even though 98% of infant formula is made domestically.
The problem is the result of supply chain disruptions and a safety recall, and has had a cascading effect: retailers are limiting what customers can buy, and doctors and health workers are urging parents to contact food banks or doctor's offices, in addition to warning against diluting formula to stretch supplies or using DIY recipes online.
The shortage is hitting low-income families particularly hard after formula maker Abbott was recalled due to contamination concerns.
The recall wiped out many brands covered by WIC, a federal food stamp-like program that serves women, infants and children, although the program now allows brand substitutes.
Mr. Biden's administration is working with states to make it easier for WIC recipients to purchase different sizes of formula that their benefits might not currently cover.
According to the White House, about half of infant formula nationwide is purchased by participants using WIC benefits.
Clara Hinton, 30, of Hartford, Connecticut, is part of this group.
She has a 10 month old daughter, Patiennce, who has an allergy that requires a special formula.
Ms. Hinton, who doesn't have a car, took the bus to the suburbs, city to city, and eventually found a suitable formula at a store in West Hartford.
But she said the store refused to take her WIC card, it was not the first time this had happened.
Ms Hinton said her baby recently ran out of formula from an already opened box she had received from a friend.
"She doesn't have a formula," she said.
"I just gave him regular milk. What should I do? His pediatrician made it clear that I shouldn't do this, but what do I do?"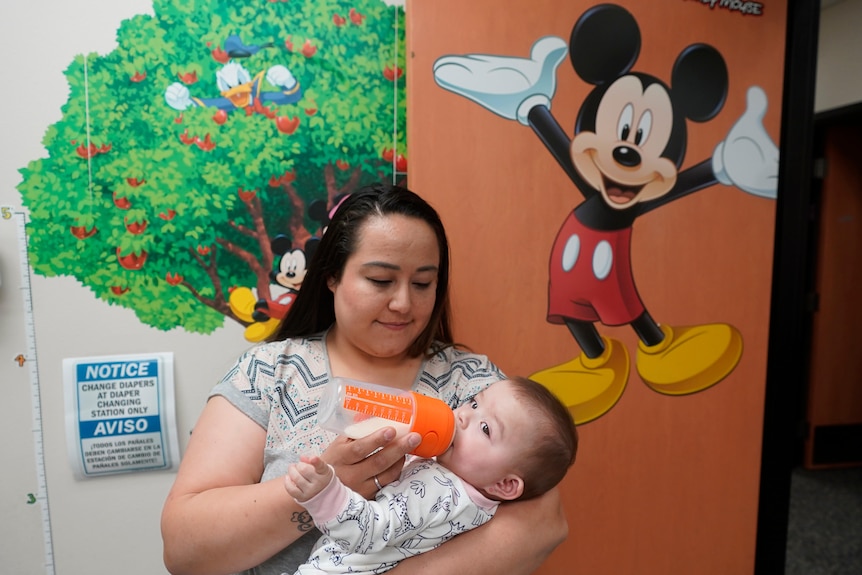 In Utah, another WIC cardholder, Elizabeth Amador, goes from store to store every day after finishing her job at a call center in Salt Lake City, desperately looking for a particular formula whose her 9 month old daughter needs.
She recently only had one can, but had four on Thursday.
She said she would not stop her heavy daily routine until she knew the shortage was over.
"It sucks, you know, because of high gas prices," Ms. Amador said.
Some parents are also using social media to fill supply gaps.
Ashley Maddox, a 31-year-old mother of two from San Diego, started a Facebook group on Wednesday after failing to find a formula for her 5-month-old son, Cole, at the Naval Base Commissioner.
"I met a girl in my group and she had seven cans of the formula I needed that were right in her house and her baby no longer needed," she said.
"So I drove off, it was about a 20 minute drive and I picked it up and paid for it. It was a miracle."
She said there was already a stigma attached to being a non-breastfeeding mother and the group became cohesive.
"Not being able to have that formula is scary," she said.
Jennifer Kersey, 36, from Cheshire, Connecticut, said she was on her last box of formula for her 7-month-old son, Blake Kersey Jr, before someone saw her post on a Facebook group and does come with a few sample cans.
She said she and other members of the group were helping each other, finding stores that might have the formula in stock and bringing it to mothers in need.
"At first I started to panic," she said.
"But, I believe in the Lord, so I said, 'God, I know you're going to provide for me,' and I started reaching out to people, 'Hey, do you have that formula? ""
Kimberly Anderson, 34, of Hartford County, Maryland, said her 7-month-old son was taking prescription formula that was nearly impossible to find locally.
She took to social media and said people in Utah and Boston found the formula, which she paid for shipping.
"They say it takes a whole village to raise a baby," she said.
"I had no idea my village spanned the entire United States as I contacted my friends, family for their zip codes so I could check their local Walmarts to ship to me directly."
Toddler milk available online
Parents who desperately search for baby formula on retailer websites such as Amazon and Google are offered products aimed at toddlers, including goat milk powder for toddlers and milk powders made with of plants.
A banner ad on Amazon advertises an "organic, non-GMO formula for babies and toddlers," but a closer look at the product image shows it's only for children over 12 months.
Other toddler milk ads appear on Amazon's website on out-of-stock infant formula pages.
Toddler milk cans often look similar to infant formula, but the ingredients are distinct, with toddler milks sometimes containing more sugar and calories, said Frances Fleming-Milici, director of marketing initiatives at 'UConn at the Rudd Center, which studied the packaging of toddler milk. Toddler milk also does not meet FDA standards for infant formula.
"It's not like you're buying a pair of shoes. It's a bit more serious," Ms Fleming-Milici said.
Dr. Navneet Hundal, a pediatric gastroenterologist at Massachusetts General Hospital in Boston, said she and other pediatricians have been grappling with infant formula shortages for months.
Formula makers stopped giving out samples that she could pass on to parents, she said.
She advises new parents to talk to their pediatrician to see if there are other brands of formula they can safely give their newborns.
"It governs our clinical practices right now," she said.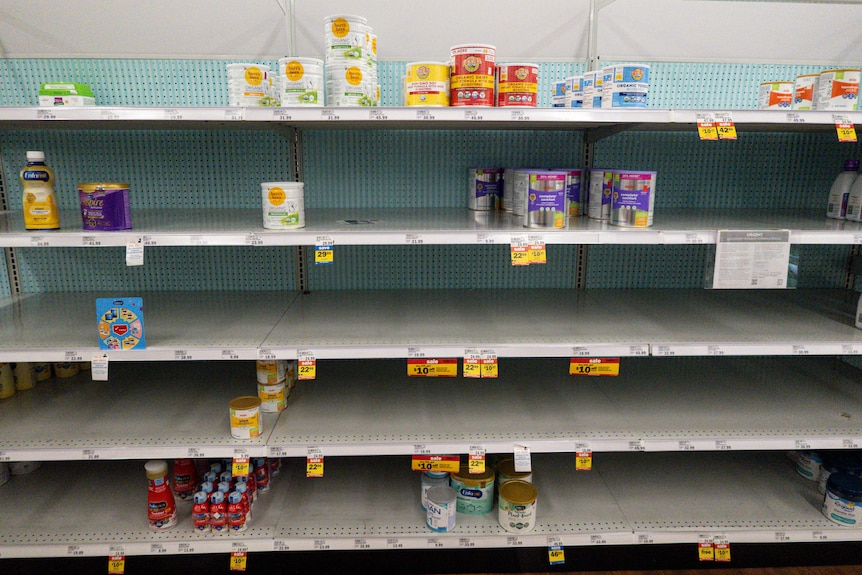 Safety recall following infant deaths
A safety recall compounded the difficulties.
The Food and Drug Administration warned consumers Feb. 17 to avoid certain baby powder products from a Sturgis, Michigan, facility operated by Abbott Nutrition, which then issued a voluntary recall.
According to findings released in March by federal safety inspectors, Abbott failed to maintain sanitary conditions and procedures at the plant.
The FDA launched its investigation after four babies fell ill with a rare bacterial infection after consuming formula made at the factory.
All four were hospitalized and two died.
Chicago-based Abbott said in a statement that "there is no evidence to link our formulas to these childhood illnesses."
The bacteria samples taken from the infants did not match those found at the company's factory, Abbott noted.
Abbott said that pending FDA approval, "we could restart the site within two weeks."
The company would begin by first producing EleCare, Alimentum, and Metabolic formulas, and then begin production of Similac and other formulas.
Once production started, it took six to eight weeks for the formula to be available on the shelves.
On Tuesday, the FDA said it was working with U.S. manufacturers to ramp up production and streamline paperwork to allow more imports.
ABC/son