From Carrie Bradshaw's beloved Manolo Blahnik to Alexander McQueen's hand-embroidered boots, shoe lovers can always justify pricey shoes for their quality craftsmanship and eye-catching glamour.
But how would you justify spending $2,550 on Balenciaga's new sneaker?
Reminiscence of all Paris; particularly the urine-soaked streets of the City of Love covered in dog poop and ubiquitous cigarette butts, which are always artfully cropped on Instagram posts, the Paris sneaker does not fail to incorporate another highlight of the French capital; the expensive price.
READ MORE: Cheap and comfortable jeans that won't be a pain in the you-know-where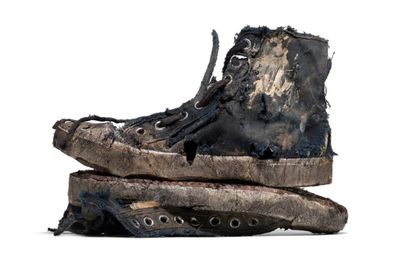 The overly distressed kicks that could have been easily removed from the dump are set to drop on May 16th with its low price starting at $695 reaching $2,550 for their highs.
The shoes were dragged further in the mud with many Twitter users exclaiming outraged and in disbelief that anyone would buy such a wrecked shoe with its ridiculous price tag with one user claiming, "Balenciaga's new 'distressed' line of shoes starting at $625 is basically the cosplay rich and poor."
While images posted by Balenciaga on social media turned out to be exaggerated, the fashion house announced plans to release 100 pairs of "extra destroy" sneakers for a premium price.
"The Paris sneaker is a marketing device designed to incite outrage and drive traffic to the company's social media accounts and website," said Timo RissanenAssociate Professor of Fashion and Textiles at UTS.
"[Balenciaga's] the current chief is one of the most prominent CMOs of the 2020s and only time will tell if the company will ever return its business to its roots; fashion design."
READ MORE: 18 Perfect Puffer Jackets For People Who "Freeze Forever"
In a press release, Balenciaga specifies that the still life portraits of the Paris Sneaker "are intended to be worn for a lifetime". The seemingly poignant reminder of the evils of fast fashion and overconsumption inevitably fall flat when we are reminded of the price of holes and worn canvas.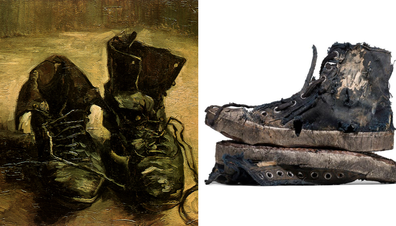 While Dr. Toby Slade recognizes that the shoe's claim as an anti-fast fashion piece is not valid, we shouldn't dismiss shoes entirely, but rather recognize them as "the very clever guerrilla marketing item" that they are.
Alluding to Vincent van Gogh's 1886 artwork "A Pair of Shoes," where the beloved artist also bought a new pair of shoes and destroyed them before painting a still life, Slade suggests that shoes should not be taken literally as items of everyday use. .
"Rather than luxurious materials and gorgeous craftsmanship, luxury brands have always created their exclusivity through concept," said Slade, founding member of the Research Collective for Decolonializing Fashion.
"Fashion appeals to those who 'get' what's going on and don't obey the traditional laws of supply and demand as society expects."
Just like Van Gogh and his works of art, shoes are not meant to be valued for their use and functionality, but for their existence making everyone think and remember the brand.
"Balenciaga is famous for being uncompromising," Slade said.
"Although it is not entirely new to luxate distressed property, it would not be wrong to claim that [Balenciaga] comments on items that are meant to last a lifetime."
For a daily dose of 9Honey, Subscribe to our newsletter here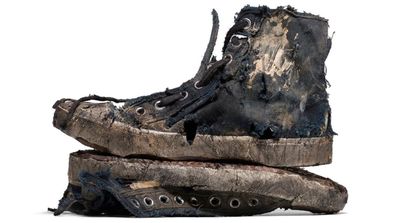 The tempting price of these "destroyed" designer sneakers