With every hour that passed until the highly anticipated game between table-topping Melbourne Storm and reigning Premiers Penrith, it looked like another big name had come out.
Storm full-back Ryan Papenhuyzen was the big one, reduced in perhaps the best form of his career, with injury to center Reimis Smith prompting a complete rear-line reshuffle.
Then Cleary was a game day scratch. Fortunately, it was Coach Ivan rather than his son.
Then, a few hours before kick-off, Storm half Jahrome Hughes succumbed to a sprained calf.
With a few strokes of the red pencil, what was supposed to be a match between two star-studded teams in their splendor was once again reduced to a case of a full-fledged team taking on an almost unrecognizable group.
It might seem like a stretch to suggest that one or two injuries can have that kind of impact on a team like the Storm, but there has been a clear ripple effect.
Papenhuyzen's injury meant an early Nick Meaney reshuffle from wing to full-back, which meant Dean Ieremia and Marion Seve would have to form a completely new wing-centre combination.
Perhaps fearing the Panthers would score 300 points on that wing, coach Craig Bellamy reshuffled again, with substitute hooker Tyran Wishart channeling his father Rod and sliding into a guard role, leaving Meaney at number two.
Hughes would have been a natural candidate to fill in at the back, but his injury paid off that idea, along with the idea of ​​moving Cameron Munster there, as the Storm needed at least an experienced header in the halves.
Bellamy also separated the experienced outside backs, with Justin Olam on the left and Xavier Coates on the right, but that didn't matter.
In the opening 10 minutes, Seve had been targeted for two Panther tries and the makeshift full-back had struck on a relatively straightforward support run, which led straight into the second of those.
Jarome Luai's attempt to start the scoring in the second half was also the result of Seve's lane targeting, and Wishart's confidence looked dead and buried at the end of a night of horror under high balls, low balls , fastballs, sliders, off-speed pitches and whatever the Panthers felt like throwing at him.
Storm fans needn't despair too much – the same thing happened the other way around in round 20 last year.
The 2020 grand finalists faced off with just over a month to go, but Penrith were managed by Dylan Edwards, which should tell you how little alike they looked.
No Cleary (Nathan this time), Isaah Yeo, Brian To'o, Kurt Capewell or James Fisher-Harris led to a 37-10 victory for the Storm; a far cry from the 10-6 loss to Penrith in the preliminary round nine weeks later.
So what can we really learn from these games?
The Panthers are the new kings of the "Next Man Up"
Give Melbourne an off-season and they can turn anyone into a top NRL player. They've been doing it for the better part of two decades now.
But in Penrith, it barely takes them a week.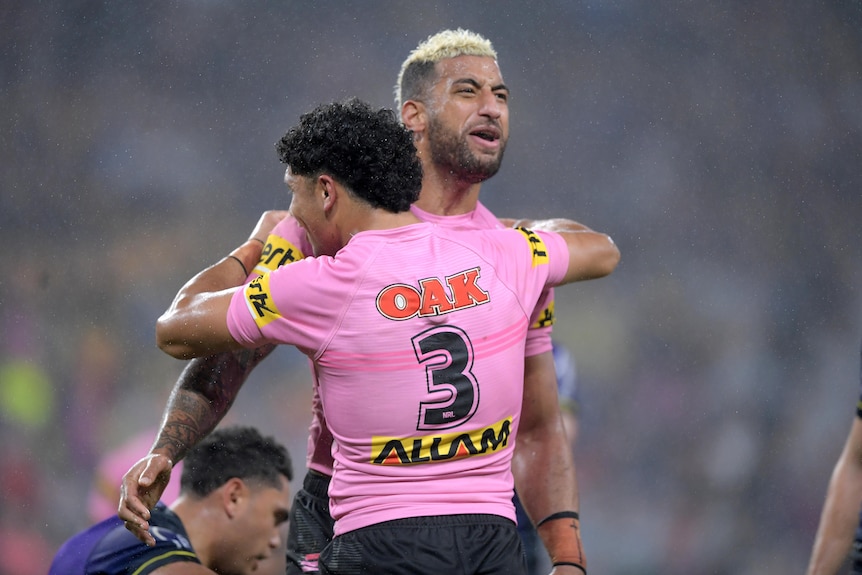 Every time one of their top guys goes down, there's another flier or bowler ready and waiting.
We've seen it this season, with Taylan May making such an impression replacing Brian To'o that he forced Charlie Staines out of the team.
He or Stephen Crichton might be the best guard on many teams, but the Panthers have Dylan Edwards.
Sean O'Sullivan started the season looking like a $700,000-a-year player, before making way for Cleary's return.
The Storm, meanwhile, realizes that its seemingly endless streak of developing stars isn't necessarily coming to an end, but ebbing.
Ryan Papenhuyzen is now THE guy at the back. It's possible that Bellamy tried to get a little too cute by putting Wishart back there to replace him, because Cleary gave him hell under rainy skies.
The move from Jahrome Hughes to Cooper Johns was noticeable, to put it mildly.
And the Harry Grant-Brandon Smith combo is no longer fake double-barreled luxury; they need Grant at his hooker best and Smith as a marginal ball runner.
Wounds to one of them, or God forbid two of them, and suddenly the storm seems a little thin.
How to Fight the Penrith Moose
If an opposing team manages to put a Penrith player on his back with any regularity, there should be a parry.
If you've ever watched the Panthers roll across the field in the blink of an eye and wondered how they do it, a series of intentional power faceplants is how.
Every tackle is a battle between the player with the ball trying to land on their stomach and bounce back as quickly as possible, and a defense trying to land it on their back and hold it for as long as possible.
The Panthers almost always win this battle. Not only do they make good quick yards, but when they're finally brought down, they're back on their feet and playing the ball before you know it.
Preventing this from happening is almost impossible, but reacting in kind is almost certainly necessary.
If you want to get yards on it you have to catch the backing defense and that probably means taking the risk of trying to play the ball before your body is really ready.
The risk is that you'll make a mistake, give the ball back to the Panthers and they'll manhandle you, but those are the stakes when you're playing against the best.
When you're the best, you make your own rules
There is a certain rhythm to NRL games, even when very good rugby league teams are involved. But not as far as Penrith is concerned.
There is not a moment, on either side of the ball, where you really know what is going to happen.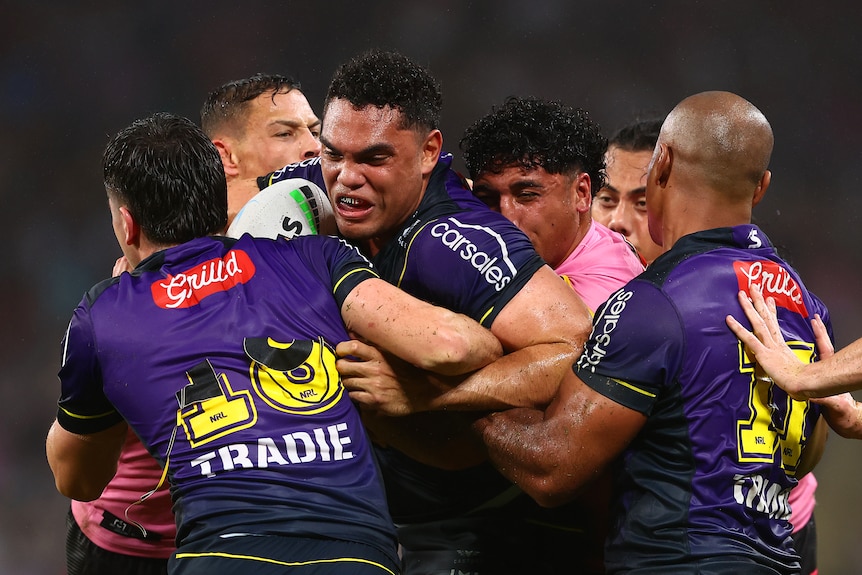 Offloads and smart plays are one thing, but when play breaks down, no team (perhaps ever) is more dangerous.
All over the park – from To'o to Tago, Crichton to Cleary, Koroisau to Kikau and Luai all by himself – if the ball falls to the ground, they can destroy the suddenly frozen or relaxed defense at will.
That's part of why teams get so frustrated with them – "I passed the test, I shut you down, why don't you quit?".
In defense, it's a similar story.
The forwards are supposed to have a few tackles to carry him off their own try line. Maybe they don't go as far as they want, but that's usually it.
When Penrith defends, they attack. There's no place too far from the try line where they can't get you back into the in-goal. There is nowhere less than 20 minutes from the touchline where you are not at risk of being contacted.
Fall asleep for a second, think you have things in hand for a moment and that's when they leap.
Cameron Munster is still Melbourne's North star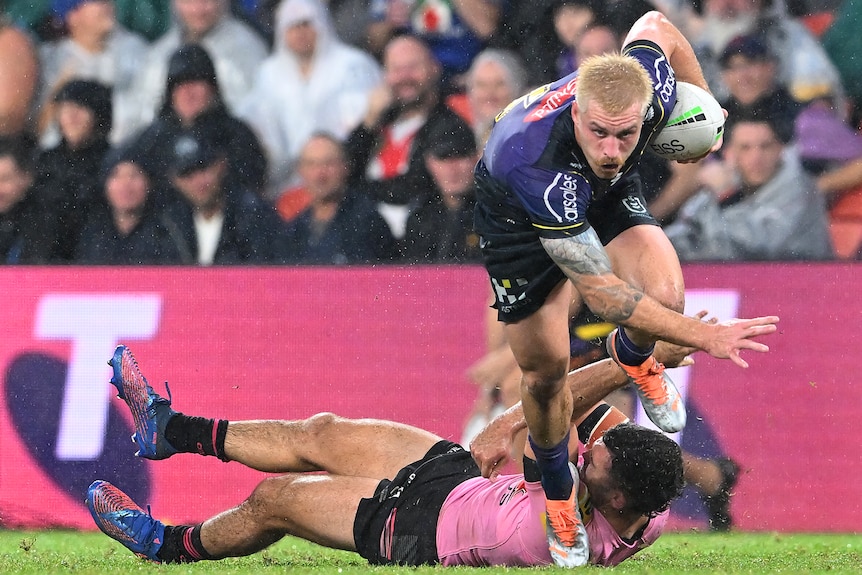 Without Papenhuyzen and Hughes, it was up to Munster to embody the title of "pivot" more than ever. And he did his best.
His whirling kickoff found the grass, then he forced a forward from Jarome Luai and launched a torpedo bomb that again confused the Panthers' back three.
He later found the in-goal with another uncatchable bomb, and when Taylan May Houdini passed four would-be Storm tacklers and out of harm's way, Munster took it upon himself to snatch the ball from Dylan's hands. Edwards.
He got the ball back soon after and banged the topside for Nick Meaney and the Storm's only try of the night.
At the end of the first half, he kind of looked at a raging Stephen Crichton and held him down practically on his own.
It all ended up being in vain – fighting an understaffed Penrith is like fighting the tide with a handful of sand – but his performance showed just how willing he is to fight for this side and what he can do.
If only he had a little more support, we might have had something close to a contest.